Am trecut aseară o fugă prin Ceainăria Tabiet. Zic o fugă pentru că somnul de după-amiază neonorat al unuia dintre noi ne-a alungat după vreo 2 ore și jumătate. Dar asta nu înseamnă că nu avem ce ne lăuda. O, dar avem!
Am adus cu noi o proaspătă îndrăgostită de Catan. Joc de care tot mai mulți sunt îndrăgostiți, din prima, dar care, pentru majoritatea, este un fel de barieră în calea încercării altor jocuri. Noi am zis să batem fierul cât este cald și să o luăm de o aripă pentru a-i arăta frumusețea din afara Catanului.


Acum nu vă imaginați că ne-am putut avânta. Nici timpul nu a fost chiar suficient cât să începem jocuri superserioase. Dar am luat-o pe catanista noastră cu binișorul. Reacția? Normal că mai vrea!
Ce joc nu are cum să nu îi placă unui începător, cu atât mai mult cu cât este vorba de o fată?
Dixit
, desigur. Jocul imaginației și poveștilor a prins-o bine pe partenera noastră de joc. Deși în prima jumătate a jocului, iepurașul ei s-a mișcat foarte puțin de pe căsuța cu 0, spre final a reușit să recupereze foarte mult și să se apropie de noi, "cunoscătorii". Jocul nostru a abundat de referințe literare, de la Lord of the Rings, la Numele Trandafirului, că nu știam ce e cu noi. Poate oboseala... În fine, am reușit să câștig, să aduc iepurașul alb primul la finiș și să-mi știrbesc astfel masculinitatea.
Cel de-al doilea fel al serii a fost, cum altfel?,
Carcassonne
. Dar, pentru a condimenta lucrurile puțin și pentru noi, am zis că trebuie să adăugăm o extensie. Mihnea ne-a recomandat
Turnul
, așa că am pornit înspre a construi pe verticală pe noile plăcuțe de hartă. Dacă nu știți ce înseamnă această extensie a clasicului
Carcassonne
, noile plăcuțe introduse de ea au un spațiu special unde pot fi construite turnuri. Ei bine, atunci când cineva așează o piesă de turn pe un astfel de spațiu, fură efectiv de pe hartă orice
meeple
care se află pe acea piesă sau pe una dintre piesele adiacente, raza depinzând de nivelul la care era pusă piesa. Omuleții luați prizonieri pot fi recuperați printr-un schimb de prizonieri sau pierzând 3 puncte și oferind 3 puncte respectivului jucător.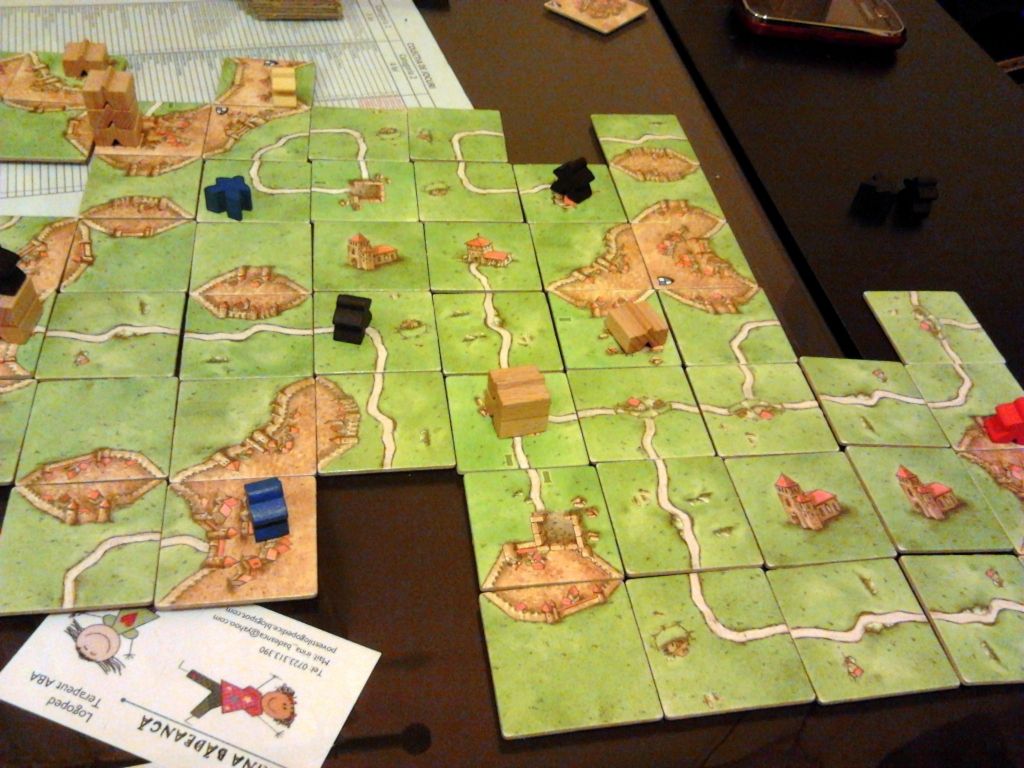 La Carcassonne nu am mai reușit să fiu în frunte, ba chiar am ieșit al treilea, iar prietena noastră a avut un muncit și meritoriu loc 4. Impresia noastră asupra Turnului? Not bad, a avut multă interacțiune, deși chiar mai mult haos, dar ne-am distrat. Diana, care a ieșit în frunte, a avut o plăcere sadică în a lua prizonieri, mai ceva ca Armata Roșie.
Imrpesii de final? Fetele au fost răsfățate de cei din Tabiet cu câte un mărțișor-ceainic de efect (se poate vedea și într-una dintre poze). Am mâncat, ca de obicei, sandvișurile lor faimoase și am băut ceaiuri aromate. Dar ce vorbesc eu: catanistei noastre, personajul principal al serii, cum i-a plăcut? I-a plăcut atât de tare încât "de ce plecăm, băi?" și, mai ales, "când mai venim?" au fost ultimele lucrurile pe care le-a spus la ieșirea din Tabiet. C-așa-i cu jocurile de societate.