Aveam o restanță la voi în privința completării acestei liste de cooperative pe care vi le recomand cu căldură. Am ajuns așadar la cele mai cu greutate 3 jocuri din listă, pentru cei care apreciază un cooperativ care se zbate și dă cu ei de pământ cât de des posibil.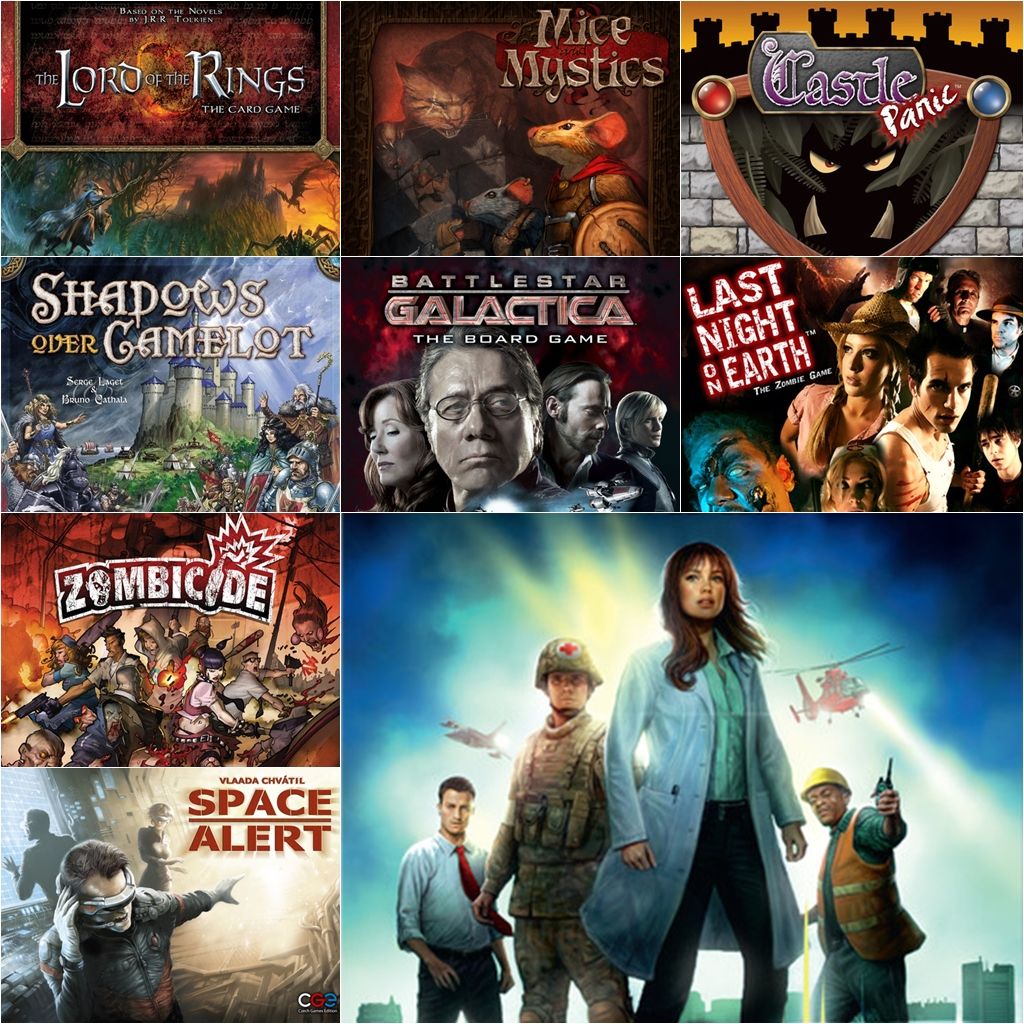 De fapt, chiar citeam zilele trecute cum Matt Leacock, creatorul
Pandemic
povestește
cum un design cooperativ reușit este acela care ține jucătorul pe marginea prăpastiei mereu, dar care în fiecare moment îi arată o firimitură din perspectiva victoriei. Toate jocurile de pe această listă reușesc să facă asta, numai că unele (respectiv cele 3 despre care scrie mai jos) vă vor ține mai aproape de marginea prăpastiei decât celelalte.
Nu pot să nu recunosc că LOTR: TCG a fost principalul motiv pentru care a pornit această listă. Soția mea este iremediabil îndrăgostită de el (atât de tare că nu mai reușesc să pun altceva pe masa de joc) și nu pot să spun că eu am alte sentimente despre acest joc. Un design de Nate French și o producție de excepție Fantasy Flight Games, The Lord of the Rings: The Card Game e un joc de cărți pentru 1-2 jucători care reușește să îndeplinească toate necesitățile mele în cu privire la cooperative, de aceea vi-l recomand cu atât de mare căldură.
Extrem de bine închegat tematic, jocul este bazat pe scenarii de dificultate variabilă care pune forțele Binelui împotriva lighioanelor de tot soiul. Ce face experiența atât de impresionantă sunt, cred eu, schimbările bruște de ritm pe care le impun scenariile și efectul lor asupra imersiunii tematice. Dacă vreți să citiți mai multe despre joc,
am postat un review acum vreo 2 ani
, când a apărut pe piață.
Durată: 60-90 de minute
Nr. jucători: 1-2
Cu cine să-l jucați? Atâta vreme cât căutați un joc de cuplu care să vă pună mintea la contribuție și care să nu provoace certuri, considerați că l-ați găsit. Și ca joc solo e foarte lăudat, dar eu nu l-am pus pe masă de unul singur.
Un joc care a trecut doar pasager prin colecția mea, Battlestar Galactica se află pe această listă pentru că atuurile lui sunt evidente. Un joc cu roluri bine definite, cu trădare inevitabilă din partea unuia sau chiar 2 dintre jucători și cu multiple căi de a câștiga nu poate fi decât un câștigător. Un design de Corey Konieczka din 2008, jocul a strâns foarte mulți fani, parțial datorită serialului, dar mai ales datorită calității lui deosebite. Așa că până și anul ăsta jocul mai primește extensii care stârnesc entuziasm.
Nefiind un cooperativ pur sânge, BSG este o provocare nu numai datorită situațiilor neprevăzute în care echipajul uman înfățișat de jucătorii de la masă, ci și datorită faptului că unii dintre jucători se pot dovedi a fi de fapt cyloni, unul dintre ei de la jumătatea jocului încolo. De la un punct încolo, jocul va avea 2 tabere, una dintre ele fiind sabotată atât de joc cât și de jucătorii cyloni.
Durată: 180 de minute
Nr. de jucători: 3-6
Cu cine să-l jucați? Un joc pentru situații în care sunteți măcar 4, BSG e un joc perfect pentru un grup care caută tranziția de la Mafia/Werewolves sau The Resistance către ceva mai consistent. Este însă un joc la care e bine să evitați "supărăcioșii".
Unul dintre
primele reviewuri pe care le-am postat pe acest blog
,
Space Alert
este în continuare unul dintre cele mai deosebite jocuri pe care le-am jucat până acum. Tot din 2008 ca și BSG, jocul este semnat de unul dintre cei mai titrați designeri din ultimii ani, Vlaada Chvatil, și cred că demonstrează cât de variată poate fi crearea de board games dacă designerul este unul pe măsură de talentat.
Space Alert te așează pe o navă spațială trimisă la înaintare pe teritoriu extraterestru. Ceea ce înseamnă că vei fi carne de tun dacă nu ești atent. Extratereștrii te atacă din toate părțile, îți vor afecta părți vitale din navă pe care vei fi nevoit să le repari ca să supraviețuiești. Ce e așa deosebit? Ei bine, toate acțiunile sunt în timp real! Cum adică? Adică jocul este însoțit de înregistrări audio care anunță inopinat acțiunile "jocului". Ceea ce te obligă să te sucești și răsucești pe măsură ce afli cum ai fost afectat. Pe cât de cool sună, pe atât de dificil este.
Durată: 30 de minute
Nr. de jucători: 1-5
Cu cine să-l jucați? Deși soția mea avidă de cooperative l-a urât pur și simplu (parțial și din cauza temei SF), e un joc pe care vă recomand cu căldură să-l încercați dacă sunteți în căutarea unui joc care să vă scoată din rutină. Probabil că publicul căruia i se adresează este format în principal din jucători experimentați și în căutare de nou.