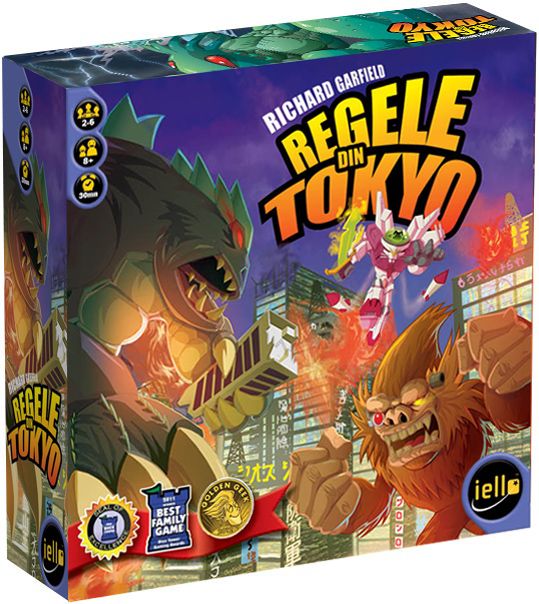 De la Lexu':
Alerta! Alerta! Monstrii au aterizat pe pamant si toata lumea e in pericol. Ma rog...toata lumea din Tokyo! Monstrii mutanti se lupta pentru suprematie in orasul Tokyo! Poti fi cine vrei tu: CyberBunny, Kraken, un Alienoid sau chiar The King. Intra in joc si arata concurentilor ca tu esti adevaratul Rege din Tokyo.
Regele din Tokyo (denumire originala King of Tokyo) este un joc de strategie combinat cu noroc conceput de Richard Garfield, omul care a oferit lumii cel mai celebru joc de carti, Magic the Gathering, asta pe langa alte jocuri inovative (ex. Robo Rally). Jocul a fost localizat (tradus in 16 limbi) si a luat nenumarate premii, unele foarte importante ca de exemplu Board Game Geek Cel mai bun joc de familie, Cel mai bun joc pentru copii, Cel mai bun joc de petrecere.
Fie ca esti din Bucuresti, Brasov, Iasi, Targu Mures sau Timisoara vino in weekendul 13-14 iulie la partenerii nostrii pentru a lua parte la lansarea jocului de societate Regele din Tokyo.
Ce se intampla la lansare?
Pai va fi prezentat jocul (dureaza 10 minute sa il inveti) dupa care se va face un concurs cu cei mai cei monstrii. Programul complet il poti afla mai jos. Merita sa vii, vei avea parte de surprize si distractie garantata.
Parteneri:
Bucuresti
Creative Board Gaming - sambata 13 iulie (contact@cbgshop.ro). Adresa: Bd-ul Unirii nr 14 Sector 4 Bucuresti
Red Goblin -

sambata 13 iulie (

bucuresti@redgoblin.ro

) Adresa: Str. Coltei nr.42 sector 3 Bucuresti


GamesStop

- duminica 14 iulie (

contact@gamesstop.ro

). Adresa: Str. Sergent Pamfil Nastase nr.38, sector 2 Bucuresti
Brasov
Ceainaria Ceai et caetera - duminica 14 iulie (lumeaboardgames@gmail.com) Adresa: Str. Latina nr.15
Cluj-Napoca
Red Goblin - duminica 14 iulie (cluj@redgoblin.ro). Adresa: Paris nr.21 Cluj-Napoca
Iasi
Lex Hobby Store - sambata 13 iulie (contact@lexshop.ro). Adresa: Sos. Pacurari nr.1 bl.540 parter, Iasi
Targu Mures
Le&Le Games - sambata 13 iulie (lehel@lelegames.ro). Adresa: Str. Artei nr.3, Targu Mures
Timisoara
Zai Apres Cafe - sambata 13 iulie (comenzi@tabladejoc.ro). Adresa: Str. Mercy nr.5, Timisoara
Programul va fi:
12:00: Prezentarea si explicarea jocului
12:30: Inscrieri la concurs
13:00: Inceperea concursului
16:10: Inceperea finalei
17:10: Premierea (locul I, 1 exemplar din Regele din Tokyo, locurile II-VI premii surpriza)
In plus pentru adevaratul Rege din Tokyo va fi disponibil si un monstru exclusiv la concursurile Regele din Tokyo, Space Penguin.
Intrarea la concurs este gratuita.